Can't see this email? View it Online. Get your email from Funcom, add newsletters@newsletter.funcom.com to your address book. This message is being sent to you because you have shown an interest in Funcom products.
You may unsubscribe at any time.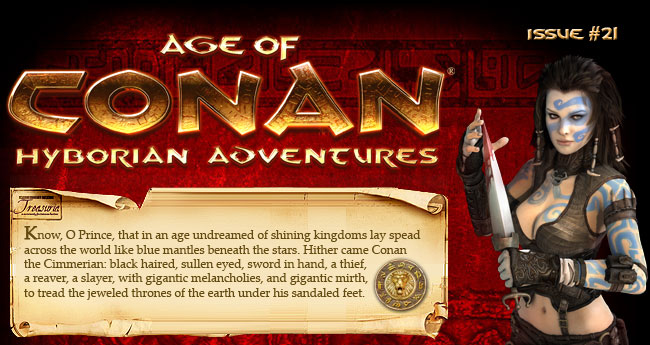 The much anticipated Update 1.4 is now live on the Age of Conan servers. With two new dungeons opening up for high-level players, your Hyborian adventures have now been extended with many more hours! We have even added a mid-level dungeon called The Cradle of Decay, and we have opened up a whole new wing in Black Ring Citadel that is sure to provide more hours of raid gameplay. If player vs. player gameplay is your thing, you might be interested to hear that we have now introduced new resources required to build battlekeeps - resources that can only be gathered in the Border Kingdom areas and as such must be mercilessly fought over to be acquired! So dust off your Drinking Cape and step into Hyboria once more, as the Age of Conan continues to unfold.

Read an update summary

Read all 1.4 update notes



New in Update 1.4 is the level 80 group dungeon of Xibaluku. Xibaluku is an instanced dungeon set in Thunder River that introduces countless more hours of challenging gameplay, epic encounters and, of course, lots of valuable loot. Explore this terrible home of a tribe of savage Picts and unravel a story that will surely chill you to the bones! This dungeon also focuses on repeatable gameplay, containing dynamic content that changes depending on how you and your group handle the many challenges you face. Depending on how you play certain spawns may or may not become available, and the same goes for loot! This time around we have also put more effort into making boss fights more interesting, and players will have to develop unique strategies in order to defeat them!

ALSO: Take a look at the trailer video for the Xibaluku dungeon



In addition to the Xibaluku dungeon we have also added a new level 80, solo dungeon known as The Slaughterhouse Cellar. Also located in Thunder River, the Slaughterhouse is actually the key to gaining access to Xibaluku. Players will need to go into Thunder River and locate the right farmhouse and perform a series of quests within the narrow and haunted corridors before they can descend into the darkness of Xibaluku.



With the introduction of Xibaluku we will be adding a new, exciting loot reward: your very own undead! Battle your way into the deepest depths of the dungeon and fight the darkest creatures you can find, and perhaps you have a chance of actually obtaining one yourself. We are kicking off with two social pets: the Corrupted Self (pictured above) and the Ancestral Spirit. They are both rare drops and they are only available in Xibaluku. Both of these social pets will follow you around, spreading gloom and dreadfulness!



In an effort to continue improving on the player vs. player experience in Age of Conan, following the comprehensive consequence system update, we have now implemented resources specifically required to build battlekeeps - resources only available in the Border Kingdoms! Now you will have to fight to obtain your resources, and even hinder the development of enemy guilds by keeping them from collecting theirs! What we want to do with this new system is add even more dynamics to the power struggle in the Border Kingdom, making guild vs. guild gameplay even more ferocious! Also new in Update 1.4 is an improved search functionality for mini-games, making it easier for you as a player to identify popular mini-games and join one that is about to start soon.



Now is your chance to win a kick-ass new gaming rig that is just begging to have Age of Conan played on it with all the bells and whistles available. Funcom have teamed up with GameRigs, Intel, NVIDIA, Crucial, NEC Displays, SteelSeries, Beckett and BradyGames to bring you this most barbarian of sweepstakes! So head on over to the GameRigs website and get signed up - and who knows, soon you might be cutting off heads in Xibaluku in glorious high-end graphics. Blood and gore never looked so realistic!

Visit the sweepstakes website



The world's largest videogame concert returns to Scandinavia for two additional performances in March. Fans in Stockholm and Oslo will be able to experience the greatest videogame music of all time during the two-day tour. PLAY! A Video Game Symphony features legendary music from blockbuster videogames, performed by a full symphony orchestra and choir - the ultimate concert experience for any gamer!

In cooperation with Funcom, the organizers are giving away two tickets to each of the performances. Due to the location of the performances, these prizes are only available to residents of Norway and Sweden. However, we will also be giving away CDs and DVDs, and these prizes are available to a wider selection of countries (see rules below). To enter the sweepstakes, send an e-mail to contest@ageofconan.com containing your full name, address, country and phone number. Winners will be contacted by e-mail.

For more information on PLAY! as well as concert dates,
visit www.play-symphony.com.

No purchase necessary. Prizes are one (6) tickets to the PLAY! Concert, ten (10) DVDs and ten (10) CDs. The odds of winning are dependant on number of entries. Competition open to residents of the following countries: Austria, Belgium, Canada, Czech Republic, Denmark, Finland, France, Germany, Greece, Italy, Japan, Netherlands, Norway, Poland, Sweden, Switzerland, the U.K., and the U.S.(except Rhode Island and Puerto Rico). Draw will be made by manner of random draw in Oslo Norway on March 1st, 2009. Any applicable taxes or customs fees are responsibility of winner. Entry to this competition is void where prohibited by local laws

Still don't own a copy of
Age of Conan:
Hyborian Adventures?

There is a special offer available on www.ageofconan.com

Climb onboard your fierce mount and ride onto the blood-covered battlefields where you will crush your enemies and lay siege to the battlekeeps of rival guilds.

Offer is available for all new registrations!

World of Conan
Age of Conan Blog
Ask Kalanthes
Hyborians
Wiki AoC
Age of Conan MMOz
Age of Conan Wiki

Hyborian Codex
Age of Conan - FR
Univers Virtuels
JeuxOnline
Mondes Persistants
Luna Atra
Hyboria Info


Onlinewelten
AoCSzene
MMOZone
AoC Gamona
AoC Wikian
AoC MMORPG-Planet
AoC Buffed

Age of Conan

Spanish Age of Conan
Conanpedia

aocfinland.net
ageofconan.ru
The Covenant of Mor'Di



...and counting!

You can also check out the many Guild websites here!


Official Website
Community Website
Official Forums (US)
Official Forums (EU)
Newsletter Archive
Conan Inc.
Dark Horse Comics
Funcom






















© 2008 Funcom. All rights reserved. © 2009 Conan Properties International LLC ("CPI"). CONAN, CONAN THE BARBARIAN, HYBORIA and related logos, characters, names, and distinctive likenesses thereof are trademarks or registered trademarks of CPI unless otherwise noted. All rights reserved. Funcom authorized user. Windows and the Windows Vista Start button are trademarks of the Microsoft group of companies, and "Games for Windows" and the Windows Vista Start button logo are used under license from Microsoft. Eidos & the Eidos logo are trademarks of Eidos Interactive Ltd. All other trademarks are the property of their respective owners. Software platform logo (™ and ©) IEMA 2006. The rating icon is a registered trademark of the Entertainment Software Association.

Funcom is headquartered in 167 Drammensveien, Oslo 0277, Norway

You may unsubscribe from this publication at any time.