Can't see this email? View it Online. Get your email from Funcom, add newsletters@newsletter.funcom.com to your address book. This message is being sent to you because you have shown an interest in Funcom products.
You may unsubscribe at any time.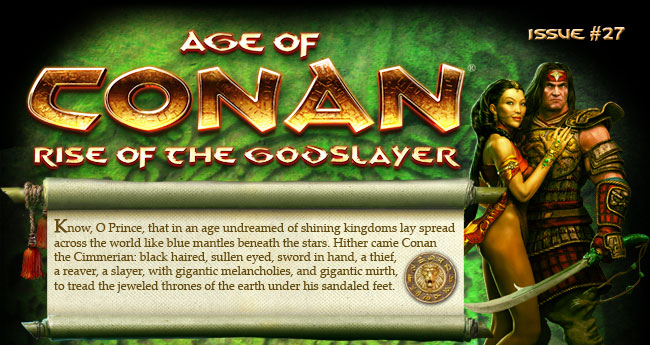 The gates to Khitai have opened. A new adventure beckons. Join thousands of other players today as they brave the new challenges and acquire the fantastic rewards Khitai has to offer! Take a look at the official community site for more information on Age of Conan's first expansion!

Read more about Rise of the Godslayer here



Funcom has launched a brand new trailer for Rise of the Godslayer, giving you a glimpse into what you can expect from the expansion. Fast paced action, all-new gameplay mechanics, beautiful landscapes and a complex storyline are only some of the features found in Khitai.

See the video here



Follow us online and gain exclusive access to news and media from all of our games. Follow us on:





Right now there are several exclusive item packs available for purchase on your account page. These item packs contains rare, powerful items – many of which you cannot be obtained in the game otherwise. This is your chance to give your character a real boost!

Read more about the item packs here.




MMORPG.com, one of the world's leading MMO websites, is now giving out thousands of Loyal Crocodiles – social pets that will follow you on your journey through Khitai! For now these pets can only be obtained by claiming one of the exclusive, limited keys.

Check out the MMORPG.com give-away here




It is clear from the get-go that Funcom has been working extremely diligently... The land, or at least what I have seen of it so far, is very beautiful. - IGN

The Alternate Advancement system is looking like a fantastic way to add more diversification and individuality to your character - MMORPG

It is a labor of love, and the effort shows in everything from the amount of new content, to the considered and varied advancement options, to the high production values. - Massively

That game definitely left us amazed. Funcom had announced drastic evolutions, but Rise of the Godslayer goes far beyond that in many ways. You'll find this Expansion is essential. - Ongames.com




Join Age of Conan's game director, Craig Morrison, as he walks us through the Celestial Necropolis, one of the new dungeons in Rise of the Godslayer. The dungeon employs many of the new gameplay mechanics introduced to dungeons in Rise of the Godslayer.

See the video at GameTrailers here



Upgrade your copy of Age of Conan to Rise of the Godslayer today! You can purchase the game online, as well as in retail. Do you dare face the challenges of Khitai?

Upgrade to the expansion by clicking here

AoC Wiki
Conan Vault
AoC Ten Ton Hammer
AoC Curse
Yellow Gremlin
Ask Kalanthes

Hyborian Codex
Age of Conan - FR
Univers Virtuels
JeuxOnline
Luna Atra
Hyboria Info


Onlinewelten
AoCSzene
MMOZone
AoC Gamona
AoC Wikian
AoC MMORPG-Planet
AoC Buffed
Cromcast

Age of Conan
AoC MMORPGITALIA

Spanish Age of Conan
ageofconan.ru
The Covenant of Mor'Di


Official Website
Community Website
Official Forums (US)
Official Forums (EU)
Newsletter Archive
Conan Inc.
Dark Horse Comics
Funcom
























© 2010 Funcom. All rights reserved. © 2010 Conan Properties International LLC ("CPI"). CONAN, CONAN THE BARBARIAN, HYBORIA, and/or ROBERT E. HOWARD and related logos, characters, names, and distinctive likenesses thereof are trademarks or registered trademarks of CPI and/or Robert E. Howard Properties Inc. unless otherwise noted. All Rights Reserved. Funcom authorized user. Windows and the Windows Vista Start button are trademarks of the Microsoft group of companies, and 'Games for Windows' and the Windows Vista Start button logo are used under license from Microsoft. Deep Silver and the Deep Silver logo are trademarks of Deep Silver, a division of Koch Media GmbH, Austria. CompuExpert and the CompuExpert logo are trademarks of Digital Interactive Sys tems Corporation. All other trademarks are the property of their respective owners. The NVIDIA logo and the "The way it's meant to be played" logo are registered trademarks or trademarks of NVIDIA Corporation. All brands or product names listed are trademarks or registered trademarks and are property of their respective holders. Software Platform logo (™ and ©) IEMA 2010

Funcom is headquartered at
Funcom GmbH, Lavaterstrasse 45, 8002 Zürich, SWITZERLAND

You may unsubscribe from this publication at any time.